Erecting a ropeway is an enormous challenge – for the customer, the manufacturer and the assembling firm. Today, one thing more than anything else is in high demand: Speed. In the shortest amount of time possible, earth has to be leveled, foundations laid, steel structures constructed and ropes tautened. This requires perfect planning and elaborate logistics.
We turn your construction plans into reality – from the first on-site visit to the successful start-up of the ropeway system. More often than not, this is a high-wire act: The work has to be completed in extreme locations under unfavorable weather conditions. This calls for our high-performing machines as well as personally manufactured special devices. If needed, the assemblers receive support by air – with the help of a heavy-lift helicopter, the towers are pre-assembled quickly and with precision.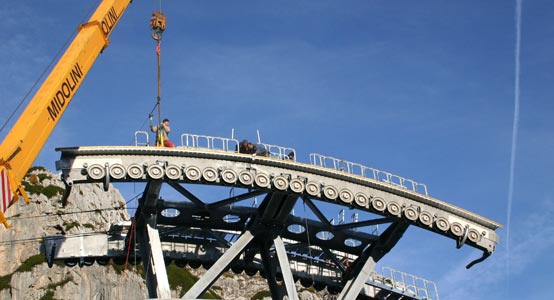 During the 40 years of our company's history, we have erected over one hundred new ropeway systems worldwide. From ski lifts to funifor aerial ropeways, our repertoire of assembly expertise covers a wide spectrum. Our customers have always been able to rely on our absolutely on-schedule work, convincing precision down to the slightest detail, and quality.