Since our establishment as a small-sized company in 1972, the demands placed on the manufacture and assembly of ropeway systems have grown with time – and we have grown and matured with them. Based in St. Pankraz, a picturesque town in South Tyrol / Italy, we serve the entire Alpine region today and foster business relations in all significant corners of the world.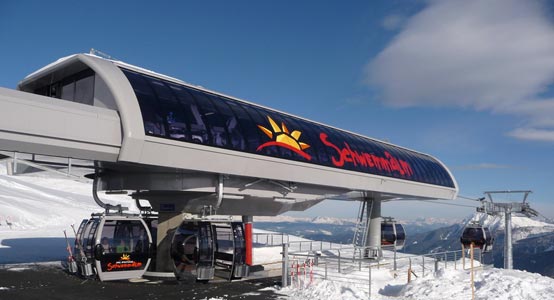 Ropeways are our passion – and have been for more than 40 years now. We plan and erect structures for the world's most renowned manufacturers of ropeways and ropeway operators. Furthermore, we maintain and repair all types of uphill rope-propelled systems. If you have a difficult transport path to overcome, our powerful material ropeways are the solution.
Regardless of whether you need to erect the tower of a gondola ropeway – with millimeter precision from a helicopter – or maintain a small roller on a ski lift, there is no challenge high enough for us or task that we can't take on with perfection.
Wired with reason - our employees
Alpintec's success is based on many factors – but one, above all others, is our motivated and well-trained staff. With their dedication and iron will to continually excel, they are the reason why we have gained such high esteem in the ropeway sector.
Our employees have a lot in common: They are highly qualified and continually boost their knowledge with further training courses. This gives us the competitive edge when it comes to demanding jobs that require the highest level of technical know-how.
Our assemblers, machinists and draftsmen give it their all in each and every working procedure – whether indoors or outdoors, with SpaceMouse, a disc grinder or torque wrench.
When the going gets tough, our members of staff have nerves of steel – both when completing the draft as well as during delicate moments of assembly. To put it in a nutshell: Our guys are wired up with competence and ability.